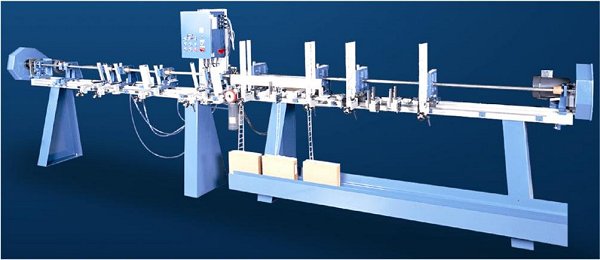 6200 Series Electric Autofeed Wood Punch & Laddering Machine
We all know that set up time is the most time consuming part of slat processing. Our engineers went to work to design a machine that would substantially reduce set-up time, thus increasing your profits. Both punching and laddering Stations are easily moved into place using a crank operated rack and pinion system assuring accuracy and efficiency. Easy to use mini stations are utilized for interim (non-rout) laddering station thus reducing set up time even further.
An Electric operation assures that you will have the fastest and most cost effective operation in your market with processing speeds double that of any pneumatic machine currently offered. Further, a laddering system designed around the reality of warp and camber in wood reduces costly downtime and allows you to make the best use of your raw materials.
We realize that one size does not fit all. Not only are our machines modular allowing you to specify the number of punch and ladder stations necessary for your needs. But these machines are upgradeable. You can start with a simple slat processing machine today and add the autofeed and laddering station at a later time.
Key Benefits
| | |
| --- | --- |
| | The electrically powered 6200 Series operates at speeds 100% faster than pneumatic machines |
| | The 6200 Series automatically combines punching and laddering of wood and composite slats |
| | Automatic Feed: Feeds individual slats into punching station |
| | Laddering: Feeds punched slats in and weaves ladder. |
| | The use of crank operated rack and pinion system on both rout and ladder stations provides extremely fine control for precise positioning of slats, which decreases set-up time measurably. |
| | The special mini-laddering (non-rout) stations are lightweight, removable and lock into place in seconds. The absence of a weaving mechanism makes them more affordable. |
| | The anti-jam device prevents warped slats from becoming fouled in the ladder. This reduces costly down-time. |
| | Versatility: Current machine can be adapted to accommodate both 2" and 2-1/2" flat stock |
| | Upgradeable: The initial slat punching machine can be upgraded for automatic feed process and laddering system at a later time. |
| | Expandable: Machine can be configured as a 2 punch, 4 punch or 5 punch machine. Ladder stations can be easily added at any time. |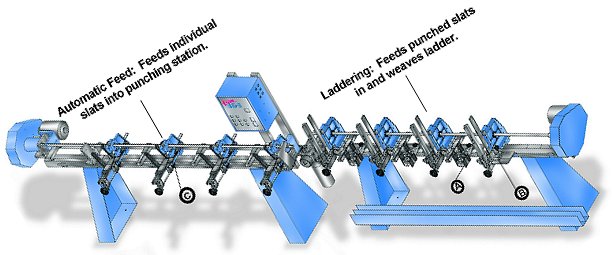 | | | |
| --- | --- | --- |
| Crank operated rack and pinion system allows for quick, precise alignment of slats for punching and laddering | Special removable mini laddering stations where weaving is not required. | Anti-jam feature that "forgives" imperfect slats. |
Copyright © 2005 Team B & B
Last modified: February 17, 2005