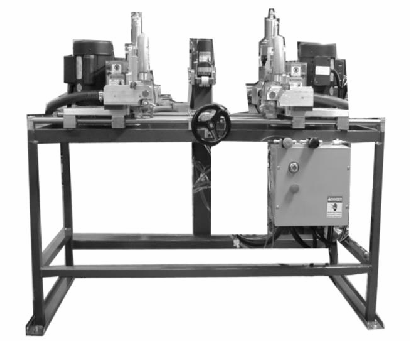 DSU-STR MORTISE & DSU-CRM TENON MACHINES

Team B & B, Inc delivers the One-Two Punch for your shutter program with our new Mortise and Tenon Machines. Designed for Wood, Pre-painted Wood or Composite (Poly-type) shutter programs, these two machines virtually eliminate dowelling on the majority of shutter panels while improving both the efficiency and the quality of your program. A Mortise & Tenon Join will set your shutter program above the rest!
DSU-CRM TENON MACHINE

The DSU-CRM Tenon Machine simultaneously routs both the right and left tenons and the mouse-hole operation on shutter head and bottom rails. The clamping devices have been designed to accommodate the typical warp, camber and twist that may occur in natural wood products thus reducing waste. The machine will accommodate 33 inch wide finished rails and is available with a trim-down option on the tenon to assure a proper fit in the mortise without an unsightly gap. The machine is also available with either an adjustable or fixed location mouse-hole function as an option.

PRODUCT SPECIFICATIONS

Amps/: 24 Amps @ 230 VAC RMS (Motors)
Volts 20 Amps @ 115 VAC RMS (Routers)
HP: Two 2 HP Motors (4 HP Total)
Three 1-1/2 HP Routers
Dim: 62"L X 53"W X 63"H




Key Features & Benefits
| | |
| --- | --- |
| | Simultaneously Tenons both ends of rail |
| | Incorporates Optional-Use Mouse-hole |
| | Clamping designed to address warp and camber |
| | Centric Centering System assures accurate finish |
| | Accommodates up to 33" Panel widths |
| | Improves efficiency of Assembly Process |
| | Improves Quality & Strength of Finished Product |
| | Redundant Safety Features |
| | Tenon Trim Function eliminates a separate step |

DSU-STR MORTISE MACHINE

The DSU-STR Mortise Machine routs the stile to accommodate the tenon in the head/bottom rail. This system assures a stronger shutter panel and a faster, more efficient assembly process.

Team B & B, Inc utilizes an Electronic Measuring System to assure accurate length of rout into the stile end to provide exceptional fit to fit with the rails. The rout depth,

width and length

are all

adjustable. The Unique double Pin Clamping mechanism automatically adjusts to accommodate stile width tolerances of +/- 3/16ths. In additional the clamping mechanism provides accurate centering even when wood is cambered or warped thus, reducing waste. The machine is built around a powerful 3 horsepower Router and has been designed with Operator Safety in mind, as the Router Bits are completely shielded. A Dust Collection System is included.

The Combination of DSU-STR Mortise Machine and the DSU-CRM Tenon Machine system takes the "guess-work" out of the assembly process and puts you on the road to success!
Specifications:

Amps: 18 Amps
Volts: 230 VAC RMS
HP: One 3 Horse-power Router
Dim: 45L X 42"W X 50"H
(Recommend additional 52"
Product Support Table)


Copyright © 2005 Team B & B
Last modified: February 17, 2005