Shutter Clamping Tables
These versatile tables are used in the final assembly process of shutters. The standard machine
includes louver supports to accommodate 2 1/2", 3 1/2" and 4 1/2 inch louvers and a clamping tool to hold the louver tree together which improves the efficiency of the assembly process.



As Shown: Manual 10 Ft, Double Jaw

Machine Options


| | |
| --- | --- |
| | DCT-MFS: Manual 10 FT, Single Jaw |
| | DCT-MFD: Manual 10 FT, Double Jaw |
| | DCT-PFS: Pneumatic 10 FT, Single Jaw |
| | DCT-PFD: Pneumatic 10 FT, Double Jaw |

Dim: 120L x 49W x 37H (custom sizes avail)




DSU-410 Multi-Station Stile Drilling Machine
The DSU-410 machine is set up to gang drill stiles to accommodate 1 7/8ths, 2 1/2, 3 1/2 and 4 1/2 shutter louvers. The machine will drill Twelve 2". Eight 3" or Six 4" holes simultaneously into either wood or composite (poly-type) products. The machine is equipped with an adjustable fence to secure the rail firmly in place and includes two indexing/locating pins to establish proper drill hole locations. The operator will move the stile
forward and use the locating pins to complete the operation down the length of the stile. The machine is available as a manual (lever) operation or Pneumatic Activation. Customer should specify drill size.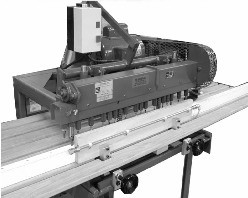 Specifications:
Electric: Standard 110 Volt
Air: 80 PSI@3 CFM*
(Pneumatic Version Only)
Dim: 72"L x 36"W x 66" H
(Includes a Table Stand)

Copyright © 2005 Team B & B
Last modified: February 17, 2005